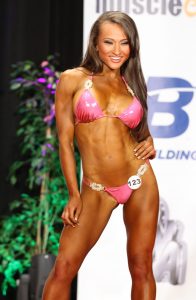 LAUREN PAPPAS is the world's fittest DJ. When she's on the wheels of steel her flex appeal makes her stand out & be noticed. 8 years ago Lauren, a native of Philadelphia, sought after the best DJ's in Philly & NYC to mentor her. She is now one of the most requested DJ's in Hollywood & go to DJ for fitness and sporting events hence the name Fit DJ.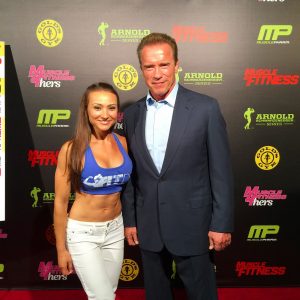 Lauren puts a positive spin on DJing by it taking it out of the chaos of the club scene & into gyms, sporting events & festivals inspiring all ages through music & fitness. Lauren is as much an athlete as she is a DJ. Her toned physique comes from training in the gym and eating healthy as taught to her by her father who is a PHD nutritionist & health food store owner. This year she signed with supplement giant BSN and has DJed in front of 150,000 people at the Arnold Sports Festival in Columbus Ohio. Fit DJ has rocked the turntables for Muscle & fitness Magazine, LuluLemon, ABC's Dancing with the Stars, Sundance Film Festival, Quest Nutrition, Keeping Up with the Kardashians, Equinox Fitness, Gold's Gym & LA Fitness, LA Fashion Week and even for a VIP party for Arnold Schwarzenegger himself.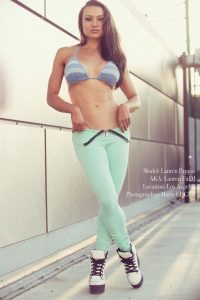 In 2015, Lauren created her own fitness channel "Pimpin Iron" offering free workouts, cooking, nutrition & fitness tips. As the host of her own show Lauren is able to use the skills she learned in college as a broadcast journalism graduate from Temple University. "Fit DJ's Flex Factory" is Lauren's Podcast where she shares her favorite workout mixes to pump up her demographic. Her mixes are listed on SoundCloud under Lauren Pappas Fit DJ Lauren is not just a DJ she is also a fitness model that has been featured in Oxygen Magazine, Muscle & Fitness Her's and Flex Magazine. She is not just a fitness model she is also a fitness competitor and has placed in the top five of all of her shows as NPC bikini division. She became certified as personal trainer and was training celebrities by the age of 20 in New York City. She appeared on Good Morning America as a training expert. Lauren hosted her own Extreme Sports Show in Manhattan.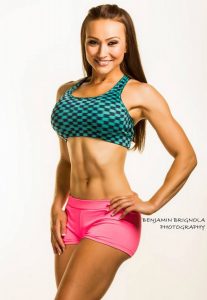 While living in NYC Lauren began acting and has appeared on networks such as MTV, NBC, ABC, OWN and Comedy Central. She worked on films by Michael Bay and James L Brooks. Upon moving to LA landed a cohosting position on Yahoo's Stunt Nation with X-Games and ESPN reporter Sal Masekela. Lauren is also a host for ScenesterTV interviewing some of the hottest DJ's and musicians today. Being learning disabled Lauren knew she had to give back. Lauren was able to overcome her learning disabilities & gain self confidence though sports and fitness. She now speaks to children who have learning differences & encourages them to get involved and empower themselves through athletics.
Her goal is to not only inspire kids but to show everyone that the can be beautiful & fit by exercising their will and taking care of themselves from the inside out. Lauren believes that "life is a training montage" and her approach is to "take on everyday with intensity weather it's in the gym or on the turntables".